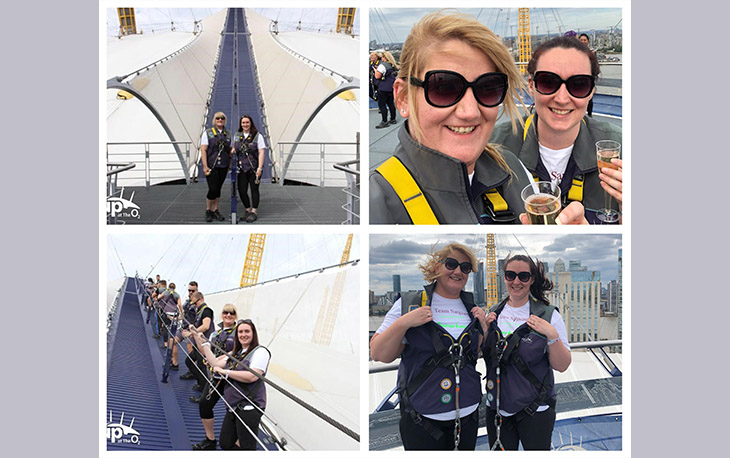 The funeral director of E Sargeant & Son Funeral Directors in Slough fought her fear of heights by scaling The O2 Arena to raise funds for Thames Hospice.
Abbie Reeve boosted the £10,000 annual fundraising goal pledged by E Sargeant & Son by completing the climb over the roof of the iconic London building with her sister.
She set up a donation page here https://thameshospice-2019.muchloved.com/fundraising/events/115110960 and spread the word to local ministers, hospitals, funeral celebrants, crematoria and cemeteries with Operations Manager Mark Clements.
Abbie and sister Paige Reeve also handed out sponsor forms during their family events to drum up support.
Abbie said: "I'm not particularly keen on heights and it took a lot of willpower to do. But knowing the money we were raising would dramatically improve the quality of life for those with serious illnesses got me over the fear.
"The glass of champagne we reserved to have on the roof was also a great incentive to get me up there."
The event raised £800 in a significant boost to E Sargeant & Son's £10,000 annual target for Thames Hospice, the East Berkshire and South Buckinghamshire charity caring for adults with life-limiting illnesses.
Mark Clements also raised over £500 towards the goal by opening a donation page here https://www.justgiving.com/fundraising/markclements40 and completing a sponsored bike while suffering an ongoing heart condition, cycling 34 miles from London to Windsor in three hours.
He said: "I have good and bad days with my heart condition so I'm never sure if what I plan for will actually be deliverable.
"This bike ride was a real personal challenge for me, a great way to push myself and edge closer to the £10,000."
E Sargeant & Son has pledged to raise £10,000 for Thames Hospice every year for five years and is already seeing significant impact with the money raised from these charity events.
Mark said: "The new hospice which Thames Hospice is building is really coming along, so every penny really does count.
"We haven't restricted our funding so the hospice can use it for the new build or for delivering the excellent patient care which it is known and admired for."
E Sargeant & Son's branches in Slough, Maidenhead and Windsor are all working tirelessly towards the £50,000 five-year target.